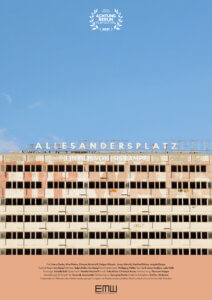 Urbanization, concrete, stone, disappearing green.
Next to the most central point of Berlin – Alexanderplatz – we find the building complex 'Haus der Statistik', which slowly withered into ruin over the past 12 years.
But now the building with the red lettering STOP WARS, in which the official statistics were made in the GDR, is slowly awakening from its slumber.
City administration, urban planners, artists and civil society come together to create space for art, culture and social affairs. Can this place and the people who engage for it create another concept of our cities?
DirectorBiography – Isis Rampf

Born in 1994 in Ulm, Germany.
She studied literature, art and media studies at the Universities of Konstanz, Cork (IRL) and at the University of Applied Sciences Potsdam.
Parallel to her studies, she worked in several editorial offices, film production companies and assistant director.
Since 2019 first own film works, most recently her first long documentary film "Allesandersplatz" about the urban development project Haus der Statistik (former Federal Statistical Office of the GDR) in Berlin.