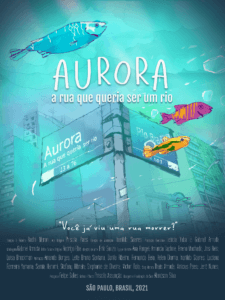 AURORA – THE STREET THAT WANTED TO BE A RIVER
If the streets could talk, what would they say?
Aurora is a sad and lonely street of a big city. On a rainy day, she remembers her trajectory and dreams about the future asking herself: is it possible for a street to die?
Director Biography – Radhi Meron
Radhi is a Brazilian screenwriter, animator and educator. Her authorial work includes some award-winning works, such as the short film "Peripatético" (2016), award for best script at the Brasilia Festival of Brazilian cinema, the argument "Mabel e Sara" (2018), first place in the LATAM Contest for students of the Brazil and Florida in 2018, and the script "My mother does not open the door" (2019), which received the ROTA / CABÍRIA award for best female protagonist in 2019.