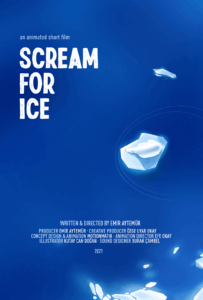 The Sun shines, ice melts
A polar bear on its own
A child cries out ah!
The haiku poem you read above is the core of the "Scream For Ice". And the narrative form of "Scream For Ice" is based on the traditional Japanese art of poetry, Haiku.
Director Biography – Emir Aytemür
He was born in İstanbul in 1984.
He graduated from Maltepe University, Faculty of Fine Arts, Department of Cinema in 2009.
Then, in 2012, he graduated from the MA Directing: Film & TV program at the University of Westminster in London and completed his master's degree.
In 2021, he completed the Proficiency in Art in Cinema at Maltepe University.
He was a co-founder and president of the 8Buçuk Advertising and Digital PR Agency between 2013 and 2017 which focused on the film sector.
During this period he was a concept creator and producer of commercials and TV programs.
Between 2015 and 2018, he took part as a jury member and instructor at film festivals, film forums, and film project support funds.