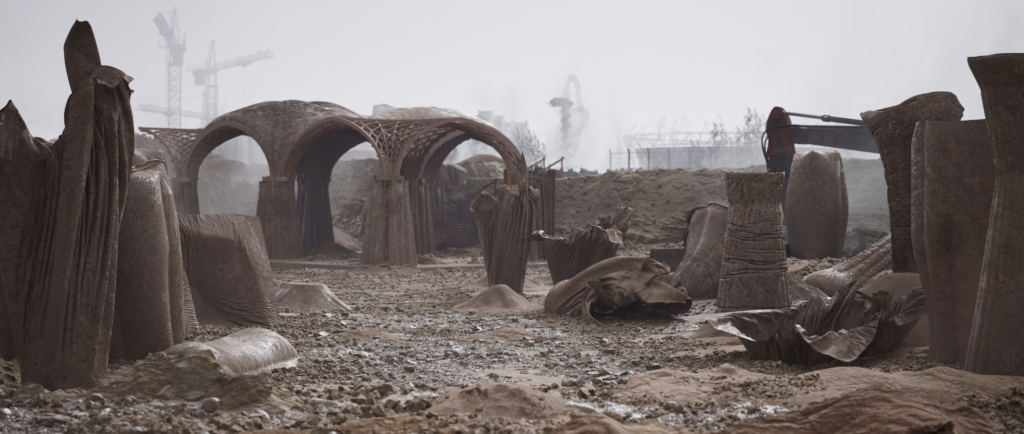 Cosmorama comprises an innovative research centre and museum dedicated to the study of building in extreme climates.
Its name, derived from the Greek words 'Kosmos' meaning "world" and 'Orama' meaning "scene", aptly captures the essence and objective of this endeavour. Serving as a focal point for architects and scientists alike, the structure offers a distinct and immersive educational experience that transcends physical limitations. By harnessing state-of-the-art technologies, the project seamlessly unites remote locations within one captivating space. This approach underscores the significance of faithfully representing the unspoiled magnificence of landscapes, to nurture a profound understanding and appreciation for natural environments while emphasizing the imperative of their conservation.
In alignment with this ethos, the architectural design incorporates local materials, effectively mirroring the surrounding environment and engendering a harmonious coexistence with the site. The project transcends conventional notions of a museum or research centre, assuming the character of an ever-evolving landscape in its own right.
Director – Cira Oller Tovar
I am a RIBA Part II graduate from the Bartlett School of Architecture. My educational journey began with enriching undergraduate years at the Bartlett, where I honed my skills while working at Crab Studio under the esteemed guidance of Sir Peter Cook.
Upon completing my Architecture BSc program, I embarked on a Year Out position at Rogers Stirk Harbour + Partners in London. Additionally, during my master's degree, I had the privilege of gaining further insights from the industry's giants, including internships at esteemed firms such as Zaha Hadid Architects and Foster + Partners. These experiences granted me the opportunity to contribute to diverse projects of varying scales, from captivating competitions to grand stadiums and meticulous master planning. This multifaceted exposure ignited my curiosity to explore the intricate dimensions of architectural study and practice.
Most recently, film has become my main form of expression, enabling me to design architecture as a form of storytelling. This newfound passion drives me to craft narratives that transcend traditional boundaries and elevate architecture into a captivating form of expression.