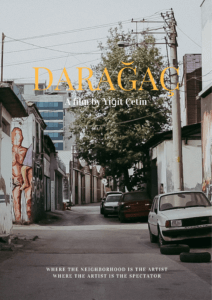 Located in Umurbey District, previously known as Darağaç, which is a very historical area in Alsancak, the Darağaç Collective is home to a small industrial zone and artists' workshops.
Darağaç also denotes a series of exhibitions that have been developed through intense dialogue and discussion held between the visiting and resident artists in the neighborhood the main objective of Darağaç is to transform itself into a common discourse or a space where emerging artists can showcase their work compensating for a lack of eligible exhibition spaces.
Darağaç has not imposed any subject and material limitations on the artists in the exhibitions it organizes or in the events it participates. It made an all-out effort to encourage and direct the artists to try out new methods in the public sphere.
Darağaç generally exhibits or hosts interdisciplinary works in the fields of painting, photography, sculpture, installation, video and performance. Darağaç also aims to transform itself into an experimental city institute of sorts.
Director Biography – Yiğit Çetin

Yiğit Çetin was born on February 26, 1997. He had lived in Izmir until he got into the university.
He graduated from Ahmet Adnan Saygun High School.
He completed his undergraduate education at Çanakkale Onsekiz Mart University, in the Department of Radio Television and Cinema. He currently continues his life as a freelance videographer in Izmir.