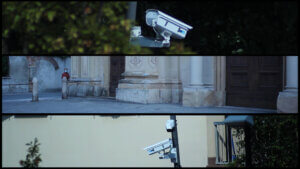 HECATE, TODAY is an investigation into visual anthropology and transformations of the imaginary, carried out by observing the urban landscape of Vimercate, a small town in Lombardy, Italy.
Comparing the pervasive control of the territory by modern surveillance and satellite tracking systems with the function of ancient divinities responsible for protecting travellers, such as Hecate, who gives the work its title.
Director Biography – Salvatore Insana
Salvatore Insana graduated in 2010 at Dams di Roma Tre with a work on the concept of useless. In 2011 he creates with Elisa Turco Liveri the collective Dehors/Audela, in the constant attempt to overcome genres, places and "conventional" tools, producing theater pieces, audiovisual research projects, urban installations.
Carrying forward his research among moving images, performing arts and other forms of revision and erosion of the imaginary, he has collaborated with numerous dance companies, musicians and sound artists and his works have been presented in several festivals, museums and art galleries in more than 30 countries.