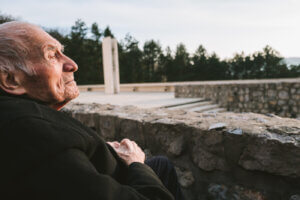 Is it possible to separate the personality of the creator from his work?
The film  also explores the vivid community of people, which is created in the works of an architect, in contrast to the strict personal life of an important creator.
An insight into architect Ferdinand Milucký's thinking, at the end of his existence
Director Biography – Dorota Vlnova

Dorota Vlnová, in 2021 graduated in Documentary Filmmaking at the Academy of Performing Arts in Bratislava, Slovakia. She worked for the largest Slovak daily newspaper SME, also with several non-profits organizations and film festivals.
During school, she made a film about poet Ivan Štrpka Bright Places (2018), an episode about architect Ferdinand Milučký from the TV series ICONS, or a short film from the TV series Romanian reading book for Czech Television.
She likes to work for Slovak radio as well. Currently finished a film about climate change in Slovakia Po nas potopa (After us the flood).