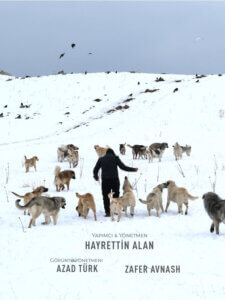 Şaban voluntarily feeds stray animals in the city of Van.
A lover of animals, Şaban makes an effort to feed stray dogs out of working hours in the secluded streets and regions of the city.
He contributes to their nourishment by taking the leftovers collected from his home, relatives and neighbors to the places where the stray animals live.
Director Biography – Hayrettin Alan
Hayrettin Alan was born in 1986 in Gevaş, Van. He completed his primary, secondary and high school education in Van.
After high school, he worked as an electrician at construction sites in many cities.
He worked as a reporter for Evrensel Newspaper between 2010 and 2016 in Van.
He produced the documentary Geç Gelen Bahar (2015), the story of a refugee woman, and directed and produced the documentary Köpekçi (2021).