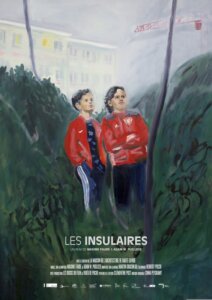 Beside a river, between a forest and a snow-capped mountain, the fog is pierced by the towers of a district: The Islands.
Its inhabitants seem to have lived there forever. But they must soon leave their homes.
Only a few kilometres from the border with Switzerland, the 257 families of this social housing district are getting ready to move; they are being relocated to other places because their homes are to be demolished to make way for private houses that won't be for them.
How do you put 10, 20 or 45 years of life into cardboard boxes? To go where?
Directors Biographies – Maxime Faure – Adam W. Pugliese

Maxime Faure (director) & Adam W. Pugliese (architect) forge common links between architecture and documentary cinema: fieldwork, sensitive to the territories, listening to those who inhabit it. In 2021, immersed with the families from The Islands public housing neighborhood (France), they co-directed THE ISLANDERS, before the buildings were completely demolished.