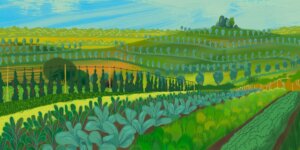 Industrial agriculture is currently a BIG problem regarding the health of the world's natural ecosystems.
Regenerative agriculture on the other hand has a real potential of being the solution.
The movie aims to promote Regenerative agriculture as a real alternative to Industrial agriculture.
A dramatic change can be achieved with the right change in attitude and perspective.
Director Biography – Assaf Benharroch
Assaf Benharroch was born in 1978 in Kibbutz Sde Boker.
He is now an illustrator, designer, and motion designer.
He is also a partner and art director at Studio Poink in Tel Aviv, an animation studio which he runs with Lynn Polyak.