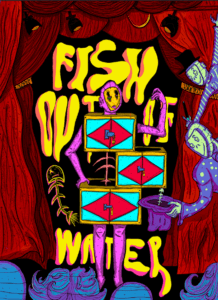 Based on society, which is a social organism, there is a certain order and harmony.
There are certain tools that ensure this harmony and order, such as norms, beliefs, rules, cultures and many more.
The animation "Fish Out of Water" aimed to experimentally explain the labelling of a character marginalized by the society in the inner and outer world, through a monologue, and also wanted to show the struggle of misfit individuals in their inner and outer worlds.
As a sub-message, the film tells that it can be possible to see the incompatible person in each individual.
Director Biography – F. Nur Özkaya
F. Nur Özkaya was born in 1998 in Diyarbakır.
After completing her university education at Bilkent University, Department of Communication and Design, she continues her career as an illustration and animation artist.
She was entitled to enter the special selection of 12 different festivals with her animated film named Fish Out of Water, and she was placed second in the Marmara University Anifest Animation Festival.
Generally in her works, she aimed to show and be understood in a way that appeals to the audience visually, by reflecting a part of herself, the subjects that society sees as a red line.