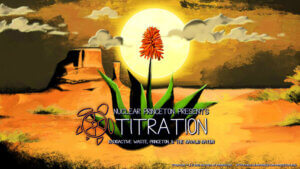 Radioactive Waste, Princeton, and the Navajo Nation examining how Princeton directly and indirectly contributed to the destructive consequences of nuclear research on Native communities.
The film centers the late Princeton chemistry professor Nathaniel Furman, who was involved in the Manhattan Project and the creation of the atomic bomb.
Director Biography – Michael q Ceballos

Mr. Michael Q. Ceballos has worked as a leader in the animation, design, and game industry for over 20 years. Among his many diverse projects, there are a few notable highlights.
At Nickelodeon, he honed his skills on the cult hit, The Angry Beavers, as lead character designer and supervisor.