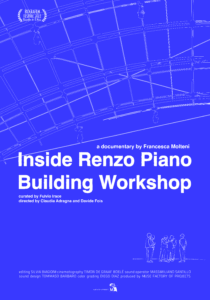 We had access, for several months, to one of the most important architectural firms in the world.
What happens inside the Renzo Piano Building Workshop is a succession of meetings, phone calls, project reviews, decisions and second thoughts.
Facing unexpected events and difficulties together. More than 100 architects and collaborators work together at every latitude to redesign the face of our cities – museums, hospitals, schools, waterfronts, skyscrapers.
Directors Biographies – Claudia Adragna / Davide Fois / Francesca Molteni
Claudia Adragna Video, short film and documentary producer now based in Milan after some years experience as production manager in a London award winning documentary production company. In recent years she has been following the direction of video and documentary projects.
Davide Fois Graduated in Directing at the Scuola Civica di Cinema of  Milan. For years he has been involved in the direction and editing of video clips, mainly for labels such as Warner, Universal and Carosello Records. He has written and directed many spot, short films, including personal projects and films for big brands.
Francesca Molteni Graduated in Philosophy in Milan, studied Film Production at New York University. Since 2002, she produces and directs films and documentaries, and curates design exhibitions. In 2009 she founded MUSE Factory of Projects, a production company based in Milan