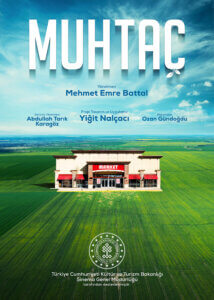 The transition to world-scale industrial production in agriculture and animal husbandry, as well as the design of industrial production in accordance with the global needs of countries, with a labor force centered, according to the rules of the free market economy, migration from villages to cities and the reduction of agricultural areas have led to a service-oriented production.
The documentary Muhtaç is a work that tries to examine this process of change and shaping on site, and at the same time aims to make an imagination of the future by tracing the social evolution created by this transformation.
By deciphering the neediness relationship established by the peasant with the economic system, he will try to read in a cinematic narrative the codes of the peasant-urbanism dilemma since the foundation of the Republic.
Director Biography – Mehmet Emre Battal
I was born in 1980 in Istanbul,
I studied primary, secondary and high school in Kocaeli.
While I was studying Labor Economics at Anadolu University, I continued to Istanbul University Radio Television Cinema Department.
I worked in digital advertising, social media management and advertising production between 2005-2012. I worked as an assistant director in various documentary films.
I have been working at NotaBene Publishing House since 2012 as the Publisher Director.
At the same time, I work as an editor in various publishing fields.