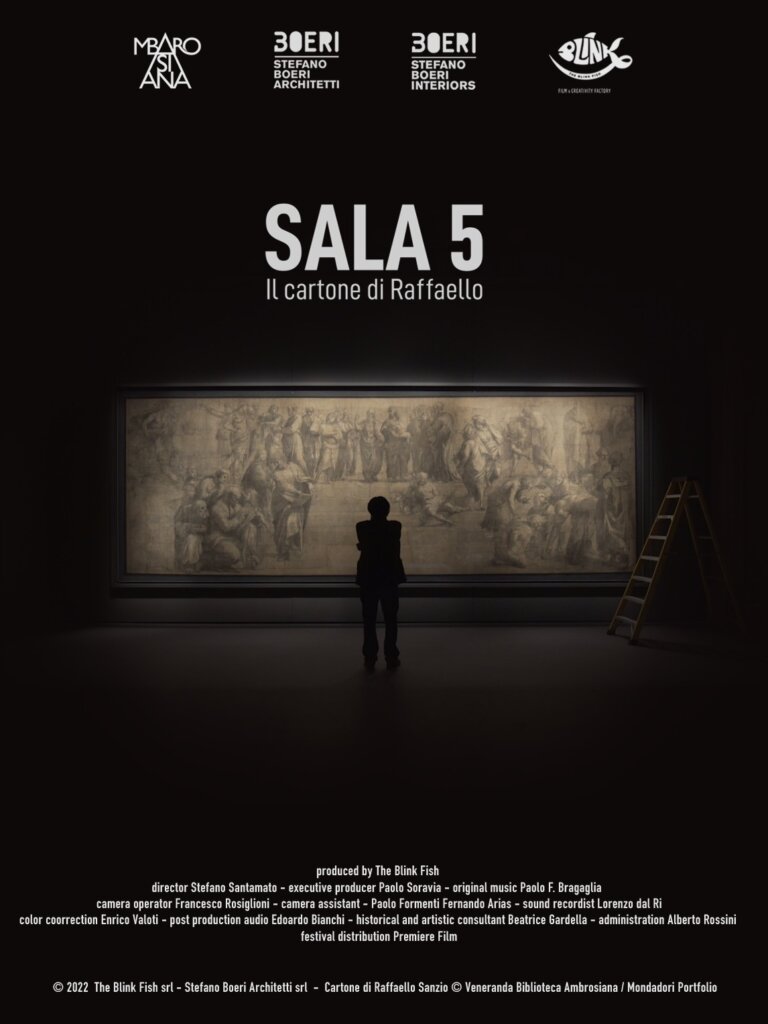 "ROOM 5, Raphael's Carton room" is an immersion inside the Pinacoteca Ambrosiana in Milan, one of the oldest and most renowned museum institutions in the world. The film crosses the threshold of its imposing entrance to discover a valuable and unique work of art: the "Cartone di Raffaello," an immense preparatory drawing for The School of Athens, a fresco created by Raphael Sanzio for the Signature Room of the Vatican Palaces (now the Vatican Museums). Among the countless rooms inhabited by masterpieces of Art History and Collecting, number 5 uniquely houses the grandiose cartoon by Raphael's hand. The film chronicles the refitting of the room, a project by Stefano Boeri Architetti, put in place thanks to the skills of companies and workers representing the excellence of international technique and labor. Close-up footage of the different stages of the delicate restoration and construction site, interviews with the designers and curators, are the narrative ingredients of an exciting journey to the boundaries between past and present, and between art and architecture.
Director – Stefano Santamato
Born in 1989, Stefano graduated with a masters in architecture from the Polytechnic of Milan in 2014 and later trained at the Cfp Bauer in Milan as a documentary filmmaker.
From 2018 he has been working as a freelance filmmaker for the Milanese video production company "The Blink Fish" and "Stefano Boeri Architetti" while elaborating a close study on the relationship between architecture and audio-visual media.
His short film Troiane (2020),  a documentary that establishes a parallel between Euripides' tragedy and the 2018 Vaia Storm, was screened and awarded in several international film festivals. He is working on his first feature film "Basilico, L'infinito è là in fondo" (2023) a documentary about the work of master of architectural photography Gabriele Basilico.