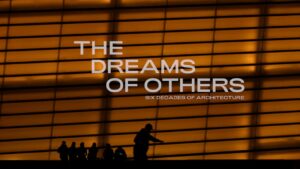 Documentary Branch 2nd Prize
The "Dreams of Others" is the story of six decades of architecture and interior design that set out to bring about or change the dreams of society. Works that design the stage on which we spend our lives, works that we often don't notice, that we admire or that we do not understand.
The documentary is a critical reflection on the role of architecture in our society, on the way the architect's figure has evolved and an overview of what architecture is and where it is heading.
Director Biography – Xavi Campreciós
Xavi Campreciós, ocumentary film producer and producer. Graduated at the Superior School of Cinema and Audiovisuals of Catalonia (ESCAC), his documentary Open 24 Hours won the Best National Short Film Award at Documenta Madrid 2010. He has spent 8 years in China and since 2012 his work has been linked to Nihao Films.
Director Biography – Pep Martín
Pep Martín, director of documentary and advertising cinema, has been the creative director of communication campaigns and audiovisual pieces linked to the third sector for more than 20 years. In 2010 he directed Ícaro, documentary winners of the Academy of Medical Sciences of Catalonia and the Balearic Islands, and included in the Official Selection of the Docs Barcelona Film Festival 2010. From 2012, his work is linked to Nihao Films.